Christian has been getting a ton of press from his trip to Norway a few months back, and I wanted everyone to hear about it straight from the horses mouth. Here is an email Christian sent me during his trip…
"Hey mates!   I'm havin' a blast here. I'm in Balstad Norway in the Lofoten Islands off the Northeast coast of Norway! It only took four flights to get here and $450 later for my boards to make it. I met up with Pat Millin, Cyrus Sutton, this Aussie bloke named Matt, and Yazzy a photographer from Canada, in Oslo, Norway, kinda accidentally. Pat and I were just walking through the airport when we ran into the others. SO stoked we did because Yazzy  greased it sooooo hard with the board bags. We actually checked in twice somehow! The reason we did that was because we each had too many bags and we didn't want to pay again for the boards or any of our other luggage… Ok, so first we hid the board bags and got our baggage tags. Then we went and put the tags we received on the boardbags where we hid them. After that, we dropped them off at the oversize baggage drop. Then we went back and waited in a separate Scandanavian Airlines line and checked in again at a different counter and got more baggage tags. The lady was like… "You already checked in, where are your baggage tags?" We told her we  never got any. She was sorta confused and suspisious but after a little greasin' she just put the tags on there. We were on our merry way! How sly is that?!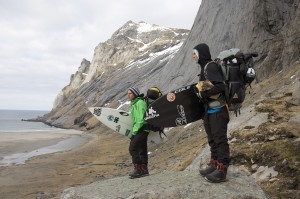 We've climbed about five mountains already and it's only the fourth day. Shit, one of the climbs was seriously INTENSE. We were literally hanging off the side of this sheer face at one point wayyy up there. I was shitting my pants because I am SO immensely  scared of heights. Maybe that's why I am a logger and don't surf Jaws. I was almost crying to Yazzy telling him I wanted to go down and he totally agreed. He felt the same way. He didn't have the 500 dollar Vasque boots people use to climb Mount Everest that we got sponsored with for the trip. We definitly took the wrong route up the mountain for sure. SO freakin scary. Pat and this crazy Aussie guy Matt made it to the summit but they're derelicts. I imagine it was a killer view from up there. I'm going to try and conquer it eventually, but definitly not taking the goat trail again. We've also made friends with another ridge where Yazzy has been eager to get the "covershot." We've hiked it about four times now. By the end of the trip we're going to hate that ridge. It's pretty rad though. There's a huge lake at the top of this hill where when you get to the top, you can see down into the calderon. You'd have no idea it's there until you hike it. It looks like the top of a volcano but intead of magma there is a massive frozen-over lake. A stream flows down the side of the ridge where we drank fresh water from. Something about the water here is amazing. It's so fresh and replenishing. Everything about this place is kinda like that though. There's something very special about it. They say it's closer here to heaven so it's easier to be touched by and angel. I dunno. I feel like it's a very spiritual place…"
Check back tomorrow for the second installment of Christian`s trip to Norway.  All photos by Yazzy.