This morning Perkins and I headed down to Oceanside to surf.  The waves looked really soft but ended up being super fun! I rode the 5`7  round nose fish quad designed by Matt Biolos, and Perkins rode his trusty 6`1 designed by JJ. The water was freezing! I guess summer really is starting to wind down…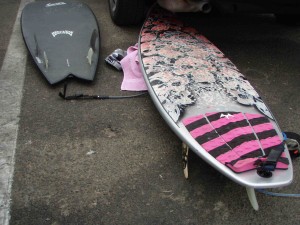 After we surfed, we headed back up to San Clemente for a late breakfast at Antoines Cafe.  They have the best breakfast in town for sure! Robo came down and graced us with his presence for a bit. He is so classic! For breakfast I had the "French Bagel" with tomato, basil, and goat cheese. It was insane!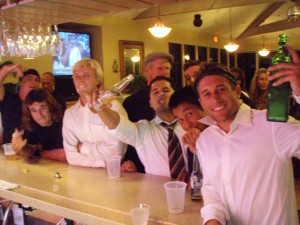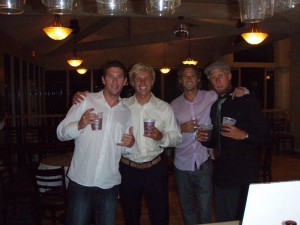 After that we dropped by the pad for a bit then headed down to Calafia to go surf again.  The waves were kind of closed out but it felt good to get wet, and the water seemed to warm up a bit.  After that we retired back to the house once again to prepare for another big night!
Later that evening I headed down to the San Clemente Tennis Club for Nate and Jenny Yeomans wedding reception.  The two of them have been together since Nate was a senior at SC High, so it was really wonderful to see them take it to the next level!  Congratulations Nate, you are truly a class act!!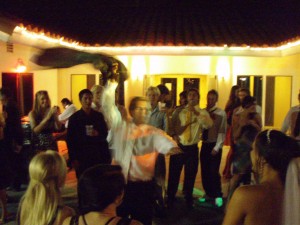 Everyone was in rare form thats for sure!  The Gudauskas brothers were there in force, showing everyone they can rip the dance floor just as hard as the lineup!  Losness was another stand out, and as always Nate was cutting some serious rug!  This was definitely a night to remember…
After a few more glasses of champagne the day started to catch up with me and I decided to retire back to the house to get some rest.  When I arrived home I could not help but think about what a quality group of people I was able to spend the evening with! As I drifted off to sleep I could not help but smile…